One Direction to headline BBC Radio 1's Teen Awards 2012 as nominations for Teen Hero awards open
One Direction will be headlining this year's BBC Radio 1's Teen Awards live from Wembley Arena on Sunday 7 October. The superstar pop band will be giving a live performance and kicking off the awards, which celebrate inspirational teenagers who have really made a difference, as well as stars from the worlds of entertainment, sport and music.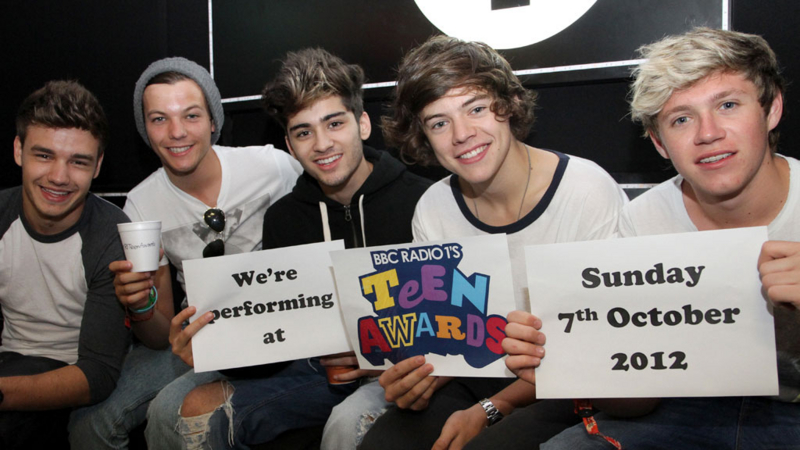 Conor Maynard, Taylor Swift and Little Mix are also confirmed to perform at the star-studded awards ceremony, which will be presented by Radio 1's own Nick Grimshaw.
Niall Horan from One Direction says: "It was so much fun last year and it's a great line-up. It's always good to be on a great bill. And obviously with the Teen Hero Award for people who have done amazing things, it's great to be part of that as well."
Nick Grimshaw says: "I'm really excited for the Teen Awards, which is one of the most fun events of the year. This year's going to be bigger and better than ever – as well as celebrating inspirational teenagers, one of the biggest bands in the world One Direction will be playing."
The centrepiece of Radio 1's Teen Awards will be the recognition of three very special teenagers, who will each win a Teen Hero Award.
The station is inviting nominations from Radio 1 listeners for young people between 12-17 who have achieved amazing things over the last 12 months.
The nominee could be a family member, carer, fundraiser or just a great mate. As long as they have done something truly out of the ordinary or selfless, are aged between 12 - 17 years and live in the UK, you can nominate them.
It could be someone who dedicates their time to others, someone who has acted courageously or dealt with a really tough situation in an inspirational manner.
Piers Bradford, Commissioning Editor, Radio 1 says: "The search for our Teen Heroes is a key part of Radio 1's year. Giving us the chance to celebrate some amazing young people and giving a platform to these inspiring stories is what makes Radio 1's Teen Awards such a special event "
The winners of the award will be decided by a panel of celebrities, Radio 1 DJs and experts from youth organisations.
Nominations are open from Monday 20 August and close on Monday 3 September at 6pm.
Alongside the Teen Hero awards, awards will be given to stars from the worlds of music, entertainment and sport. Details of the specific categories and voting for these awards will be announced shortly.
Details and conditions of nominations and more information on how you can attend the event are on
www.bbc.co.uk/radio1
. Tickets will be available from Saturday 22 September from 2pm.
The event will be broadcast on Radio 1 and BBC Three with coverage also on
www.bbc.co.uk/radio1